Module Title:

How to get started on Mobile EN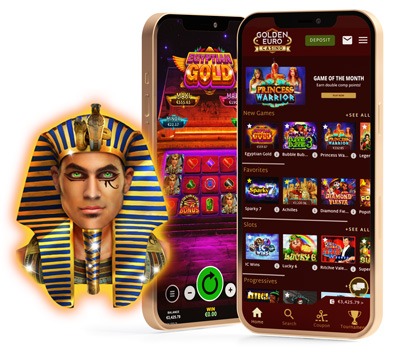 Here are a few words, which best describe Golden Euro Casino: easy to use, exciting to play, quality guaranteed!

This is exactly what also characterises the mobile version of our casino games. You no longer need to sit in front of your desktop computer or take your laptop into your lounge to spend your leisure time playing the games you love. Now you can easily take them with you wherever you go on your mobile phone or tablet. Play top-quality Golden Euro Casino games on your mobile device wherever you like.
What makes the mobile casino special
More than 120 of our casino games are also available to you on the go. You don't need to download any software to play. Simply open the mobile casino in the browser of your phone or tablet and enjoy the full range of casino features.
The games at a glance
You will find the list of all available games, by category and theme, on the first page of the mobile casino. As in our desktop casino, you also have the option of marking your favourite games with a star so that they always appear first and you don't have to search for them every time.
Direct access to all the offers
The coupons section can be reached in the mobile casino with just one click in the footer menu. You will then receive the complete listing of the offers available to you and can also redeem them immediately via the green button.
Mobile tournaments
A special feature of our mobile casino are the mobile slot tournaments. These offer the latest slot games and a wide range of different tournament variations. You can easily join by clicking on the tournament icon in your player account, entering your alias and registering in the tournament of your choice. For many of the tournaments, there are not even any fees.
Enjoy Golden Euro's mobile gaming experience anywhere you go!