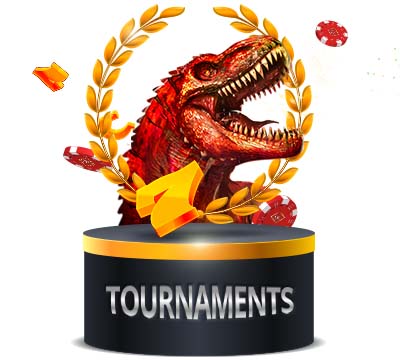 Online slots have become incredibly popular, making them a cool tool for us as a Casino to deliver even more excitement to you. After all, poker tournaments are widely recognised, so why not launch tournaments on slots?
Unlike card games, you can't directly influence the outcome of a slot tournament, but you can still experience the thrill of knowing that you can top a leaderboard. Participating in a slot tournament and riding your luck can see you landing huge rewards, independent of what you can win on the slots.
How Slot Tournaments Work
Casino tournaments are a great way to have fun and win real cash prizes. Here at Golden Euro Casino, we have a bunch of different slot tournaments, allowing you to race for the top and see who's the luckiest among them all.
Here you'll find them all, with all their variety. From freeroll slot tournaments to buy-in tournaments, casino players love to compete against each other. The slot tournaments vary in terms of time limit, credits, add-ons, re-buys, and other factors, making them as enjoyable as possible. Of course, you can join all the online slot tournaments we have on offer if you want!
Types of Online Slot Tournaments
The slot tournaments at Golden Euro Casino come in different shapes and sizes: freerolls, small-stack tournaments, one-shots, and high-roller tournaments with higher buy-ins.
We offer slot tournaments for players from all walks of life, so we're sure you'll find one to suit your taste. Slot tournaments are a great way to boost your bankroll and play exciting games while having fun with friends and other slot players.
Are Slot Tournaments Free To Enter?
Some tournament players prefer to play slots tournaments with no entry fee. These tournaments are called freeroll slot tournaments. Various slot games are available for this kind of buy-in free tournament. Other tournaments have entry fees, called Buy-ins.
What Is A Buy-in And What Do You Get for It?
The buy-in is a small fee players pay to participate in slot tournaments. On average, these entry fees are under €20 and contribute to the prize pool.
For your buy-in, you get a guaranteed spot in the tournament and a chance to win one of the prizes. Always check the details of the desired tournament which you want to participate in. There, you will see what slot game it is about, the starting time and other important information for playing.
Should I Use Add-Ons For More Game-Time In Slot Tournaments?
With add-ons, you get extra time and credits to play after the original resources have elapsed. Add-ons in slot tournaments help players stay in the game for longer. Think of it like boosts in video games that allow you to defeat your opponents and move up the leaderboard. Of course, they will cost you something as no boost comes for free.
What's A Re-Buy?
A re-buy gives you a chance to participate in the tournament again. The new attempt with the re-buy will overwrite your previous points scored. Not all tournaments have re-buys, so use your resources wisely. A typical re-buy tournament is the Golden Euro Small Stack Fun. Should you not see your name on the leaderboard after your first round, the re-buy feature gives you a second chance to win!
How To Join A Slot Tournament?
If you want to join a slot tournament, click on the tournament sign of the main navigation in your casino account. After creating a tournament alias, which is the name showing up in the rankings, you will be able to sign in for any available slot tournament. Simply choose your desired tournament and click on "Buy-In".
Always check the tournament info to learn when the slot tournament is about to start and if there is a limited number of participants. While the tournament is running, you can enter anytime, as long as spaces are open. The big Freeroll tournaments mostly have a few days of registration before the actual start of the tournament, so be sure to secure your seat!
How To Win Big In A Slot Tournament?
There's no special formula we can share that'll help you win. Slots are a game of chance, so you'll need Lady Luck beside you to win. It's up to you to find your perfect strategy. Combine bet amounts according to your remaining time frame, start with small bets and raise as you go along, or make the most of other tweaks such as slot speed. Get creative, take your chances and win big.
What Can I Win In A Tournament?
Once the tournament is finished, rewards are paid according to the leaderboard ranking. The prize amount may vary in every tournament. One thing is for sure: The prizes paid depend on the total prize pool and the number of players participating.